Conference Programme

11-16 August 2015
Guarantee your participation.
Buy your ticket now!
Join leaders from around the world for a productive, informative and eye-opening programme with the WorldSkills Competition as its centrepiece!
The WorldSkills Conference Programme will bring you face-to-face with the leaders of today and tomorrow in global industries, while providing customized opportunities to network with the policy makers of today in addressing current global skills issues.
As part of the 43rd WorldSkills Competition in São Paulo, Brazil, we would like to extend an invitation to all worldwide leaders to come to Brazil and participate in the Conference Programme.
Conference Days
11 AUGUST 2015: SENAI AND INDUSTRY EXCELLENCE
Have a chance to walk through the doors of SENAI schools and Brazilian industries. You will have the opportunity to see first hand the best practices used to educate the next generation of Brazilian skilled workers. More info.
12 AUGUST 2015: FUTURE TRENDS
Representatives from international agencies will come together to discuss international cooperation and development. This panel discussion will offer insight into best practices around the world and provide an opportunity to exchange ideas. More info.
13 AUGUST 2015: THE FUTURE OF SKILLS DEVELOPMENT AND EXCELLENCE - SOLD OUT
Attend the WorldSkills Leaders Forum, the Conference Programme's premier event. The WorldSkills Leaders Forum strives to develop the power of the WorldSkills network to meet the needs of industry and commerce. Take the time to network with international partners over lunch before heading out for a guided tour of the Competition. More info.
14 AUGUST 2015: GLOBAL POLICIES AND INNOVATION
The Brazilian Minister of Education invites you to join him and his international colleagues to discuss cooperation, experiences and best practices in the world of VET. This seminar will strive to exchange success stories and strategies on professional education and training to help close gaps that may exist throughout the world. More info.
15 AUGUST 2015: SKILLS DEVELOPMENT INITIATIVES
This morning will feature a series of shorter sessions focused on innovation, future skills, technical cooperation and international skills development. Sessions will be designed and delivered by WorldSkills Members and Partners as well as international leading organizations to ensure the needs of our stakeholders are met. These sessions will demonstrate how to cooperate and create important connections to improve the VET world. More info.
16 AUGUST 2015: EXPLORE SÃO PAULO
Discover Brazilian culture while touring the city of São Paulo. Stopping at several local attractions, participants will get an in-depth look at life in Brazil. More info.
Who Should Attend
You are a leader in government, industry, education, a union, or an association.
You make decisions about technical and vocational education and training policy and practice.
You want to network with other colleagues and peers from countries and regions around the world to exchange information and best practices regarding industry and professional education.
You are part of the global skills movement and want to raise the profile of skilled careers, and impact global economic development.
You are interested in: the global skills agenda, practice and policy, trends or new technology, networking and learning from other leaders in like positions.
You want to observe and celebrate the world's best young skilled professionals in action.
---
Register to receive more information about our
Conference Programme
Get to know more about the WorldSkills Conference Programme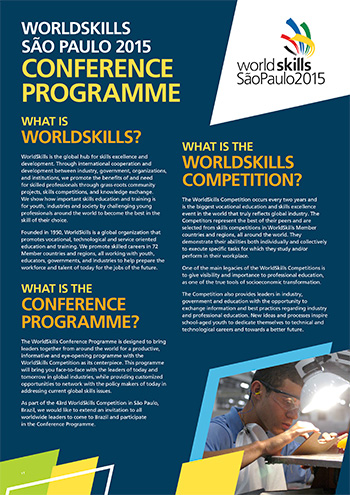 WSSP Conference Programme (PDF, 427 kb)
---
Conference Programme Schedule
Inspiring Skills Excellence and Development – Overall Theme
 

Tue. 11 Aug.
C-1

Wed. 12 Aug.
C1

Thur. 13 Aug.
C2

Fri. 14 Aug.
C3

Sat. 15 Aug.
C4

Sun. 16 Aug.
C+1

Competition events

Opening Ceremony

Day 1 of Competition

Day 2 of Competition

Day 3 of Competition

Day 4 of Competition

Closing Ceremony

Daily theme

SENAI and Industry excellence

Future trends

The future of skills development and excellence - SOLD OUT

Global policies and innovation

Skills development initiatives

Explore São Paulo

Morning Programme

Industry and SENAI schools technical visits

Skills for sustainable development post-2015

WorldSkills Leaders Forum – the future of skills development and excellence

International Ministers Conference – 21st century initiatives to foster technical and vocational education

Seminars on countries approaches to skills excellence and development

Guided tour in São Paulo City

Afternoon programme (pick one of the options)

Prospective methodologies for skills development – hosted by ILO

Guided VIP tour of the Competition

Skills development for Africa – hosted by World Bank

A glimpse at industries future skills and technologies – hosted by Global Partners

BRICS: creating a joint vision on Skills Development

 

Alternative options for afternoon 

Guided tour of Competition
Restaurant Service guest
Additional Industry or education study visit (based on demand)

 

Guided tour of Competition
Restaurant Service guest
Additional Industry or education study visit (based on demand)

Guided tour of Competition
Restaurant Service guest

Evening Programme

 

An evening with UNEVOC – network and reception

 

 

 

 

Cost per day*

USD 70

USD 180*

USD 150*

USD 100*

USD 100*

USD 120

Additional items Included in cost per day
Industry and education visit transfers
Lunch
Coffee Break
Lunch at Holiday Inn
Networking Lounge Access
Coffee Break
WSLF Lunch
Networking Lounge Access
Coffee Break
Lunch at Holiday Inn
Networking Lounge Access
Coffee Break
Lunch at Holiday Inn
Networking Lounge Access
Lunch
 

*There will be a general registration fee of USD 130 that is a one-time payment for the Conference Days on C1-C4.

**These prices are for the Conference Programme components only. They do not include accommodations and transfers.
Detailed Daily Schedule
General Information
Where: Elis Regina Auditorium - Convention Palace, Anhembi Park
Jequitibá Room - Hotel Holiday Inn (WorldSkills Leaders Forum, 13 August)
Access on 11, 12, 14 and 15 August (C-1, C1, C3 and C4): Main entrance of the Convention Palace (Accreditation Centre) - Av. Olavo Fontoura, 1209.
Access on 13 August (C2): Holiday Inn Hotel - Rua Professor Milton Rodriguez, 100, on the right side of the main Lobby.
Access on 16 August (C+ 1): Main entrance of the Elis Regina Auditorium, access through the main gate of the Anhembi Park - Av.Olavo Fontoura, 1209.
Elis Regina Conference Lounge: As an extra service for accredited Conference Programme participants, please enjoy the Elis Regina Conference Lounge, where you will find light snacks and beverages throughout the day. Open from 08:30 to 17:30, 12-15 August.
Accreditation: The accreditation centre for Conference Programme participants is located in the Convention Palace. Participants may obtain their accreditation badges by presenting an identification document (ID/Passport) and payment confirmation. Additional Conference Programme bundles may be purchased at this location, pending availability. The accreditation centre in the Convention Palace will be open from 5 August (C-6) from 07:00 -20:00, to 15 August (C4) until 20:00.
Access to the Conference sessions, Conference Lounge, external visits, and evening activity schedule will only be available to accredited Conference Programme participants.
Conference Programme Support Team: WorldSkills São Paulo 2015 and WorldSkills International Conference teams will be at the Accreditation Centre at the main entrance in the Convention Palace. Our support team will be available at the Elis Regina Conference Lounge Information Desk during opening hours (08:30-17:30).
Access to the Camauê Restaurant - Holiday Inn Hotel: Each Conference Programme participant will receive vouchers for lunch for their accredited Conference days, which will be delivered together with the accreditation badge at the Accreditation Centre. The vouchers will have the dates printed and must be presented to the hotel team in order to access the restaurant. These vouchers cannot be reprinted if they are lost.
Simultaneous Translation Services: During the Conference Programme there will be simultaneous English-Portuguese interpreting services available. In order to pick up a headset, an identification document or business card will be requested and returned as soon as the equipment is returned. Please be careful while using the headsets to avoid any damages.