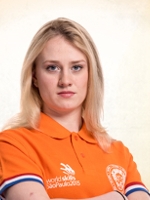 Lotte van Wandelen
Competitor in Skill: Beauty Therapy
Country: Netherlands
How did you get interested in your skill?
I always liked to take care of body and skin of other people.

Where did you do your training for your skill?
Beauty College, Utrecht.

How did you first find out about your Member organization and its programs?
Internet and visit school to get more information.

Who influenced you to pursue your skill as a career?
Only myself.

What is your experience in participating with your Member organization?
Very interesting, because I learn a lot and they gave me the oppertunitie to participate at WorldSkills.

Describe your most memorable moment so far with WorldSkills?
The most memorable moment for me was the invitation for WorldSkills.

Describe what your experience has been since your involvement with WorldSkills
Very positive, because I still learn a lot and the teambuilding days are very inspiring.

Did participating in the skills competitions and training for WorldSkills help you progress in your skill? Please describe.
Yes. Especially concerning the make-up skills.

What do you currently do? Where do you work?
I work at a sauna/beauty center. I work there as a beautician and I give all kind of treatments. From massage to hammam and facials. I also try to earn a little bit more money by cleaning the practice of a doctor (GP).

What are your future career aspirations?
My dream is to become a skin therapist and I also would like to stay involved with the organisation of WorldSkills.