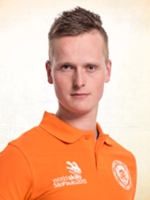 Lando Klein Gunnewiek
Competitor in Skill: Plumbing and Heating
Country: Netherlands
How did you get interested in your skill?
I got my interest in my job because my brother practiced the same profession and it seemed to me very interesting and fun.

Where did you do your training for your skill?
I train every day my skills at work or school.

How did you first find out about your Member organization and its programs?
Door school werd ik gevraagd of ik mee wou doen aan de landelijke voorrondes en zo doende ben ik steeds verder en nu mag ik mee doen aan Worldskills 2015 Soa Paulo.

Who influenced you to pursue your skill as a career?
Niemand heeft mij echt beïnvloed of gepusht dat ik voor dit vak moest gaan. Ik vond het zelf gewoon een zeer interessant vak om uit te oefenen en ik het tot heden nog steeds een geweldig vak vind.

What is your experience in participating with your Member organization?
Een zeer goede ervaring die ik niet meer zou vergeten. Ik heb er tot nu toe al heel veel van geleerd en ik hoop de komende tijd nog veel meer te leren.

Describe your most memorable moment so far with WorldSkills?
Mijn meest memorabele moment tot nu toe is de oefeninterland wedstrijd van 7 t/m 9 april 2015 in Gorinchem waar ik tegen een deelnemer uit Zwitserland moest strijden. Ik vind het een mooie ervaring en heb er veel van geleerd.

Describe what your experience has been since your involvement with WorldSkills
Sinds ik betrokken ben bij Worldskills weet iedereen die ik ken en ook mensen die ik niet ken dat ik naar worldskills ga en iedereen wenst me plezier en succes met de wedstrijd in Augustus in Brazilië

Did participating in the skills competitions and training for WorldSkills help you progress in your skill? Please describe.
Ja zeker, door alle oefeningen en trainingen die ik doe en heb gehad ben ik beter geworden in mijn vaardigheden maar ook sneller geworden.

What do you currently do? Where do you work?
I work four days a week by a installation Business calls Rufra B.V. and one day a week I go to school to learn the theoretical side of my profession.

What are your future career aspirations?
In the coming years I hope to gain more degrees and then to run my own business in the engineering sector.