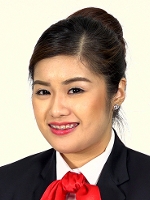 Hui Min Vanessa Quek
Competitor in Skill: Beauty Therapy
Country: Singapore
How did you get interested in your skill?
From young I love doing nails for people so my Mum encourages me to go on with what I love to do in my life.

Where did you do your training for your skill?
At College East Simei, where I am studying for Higher Nitec in Beauty Spa Management Course.

How did you first find out about your Member organization and its programs?
From a senior who participated from the previous Worlds kills competition.

Who influenced you to pursue your skill as a career?
After learning so much from different teachers, hearing their experience from the industry make me want to be like them one day.

What is your experience in participating with your Member organization?
We share what we learn, difficulties we are facing and how we felt about our training.

Describe your most memorable moment so far with WorldSkills?
Team-building Camp - love bonding with members from the Singapore Team.

Describe what your experience has been since your involvement with WorldSkills.
Different ways of learning practical skills as the procedures are more in-depth and precise to meet the competition standard. I have become more focused and patient during my work.

Did participating in the skills competitions and training for WorldSkills help you progress in your skill? Please describe.
Yes it has. It makes me see which area I am better in. Without participating in the skills competition and training for worlds kills, I will not be able to learn more advance practical skills and to be professional in appearance and work.

What do you currently do? Where do you work?
Studying for my year 2 Higher Nitec in Beauty and Spa Management programme and trying to balance between study and training. Not working right now.

What are your future career aspirations?
My future career aspirations is to manage a beauty salon and to coach the future beauty competitors.