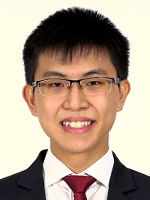 Joell Thng Chong Shu
Competitor in Skill: Industrial Control
Country: Singapore
How did you get interested in your skill?
During the briefing session, I see this is a learning opportunity and a chance to gain new experience. After being exposed to it, I got more interested in Industrial Control.

Where did you do your training for your skill?
My training is mainly in Singapore Polytechnic and occasionally in the related industry.

How did you first find out about your Member organization and its programs?
Through email, I first found out about my Member organization and its programs.

Who influenced you to pursue your skill as a career?
My seniors from World Skills who are already working in this profession influenced me to pursue my skill as a career.

What is your experience in participating with your Member organization?
It is a very pleasant experience. I go to companies to get experience in working environments. Through working for them, I learn different methods to solve problems.

Describe your most memorable moment so far with WorldSkills?
Training for World Skills Singapore with my friend is my most memorable moment so far with WorldSkills.

Describe what your experience has been since your involvement with WorldSkills.
Things have been going smoothly thanks to joining World Skills. I have learnt things beyond my class. Therefore I am able to understand lectures more easily. Doing practical in class is a breeze for me. My time management has also been improved.

Did participating in the skills competitions and training for WorldSkills help you progress in your skill? Please describe.
Yes, training for WorldSkills makes me tougher and enables me to train easier. I am forced to do things in a limited time increasing my efficiency.

What do you currently do? Where do you work?
I am currently employed as a temporary Technical Support Officer in Singapore Polytechnic to prepare for the WorldSkills Competition.

What are your future career aspirations?
At this moment, I have not decided my future career. Probably, it will be in the field of either Power or Control Engineering.