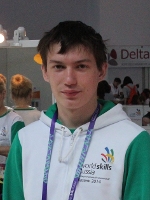 Sergey Dubenskiy
Competitor in Skill: Welding
Country: Russia
How did you get interested in your skill? It was very long ago, I was 14, and I've seen a lot of technical TV programs, including welding. And I've bought my first welding machine at that period.

Where did you do your training for your skill? I've became my training 4 years ago at my professional
college NQ 12.


Who influenced you to pursue your skill as a career? My teacher Vladimir Myagkov, the director of my college Anatolyi Kornev, and. of course, my mother.


What is your experience in participating with your Member organization? In my opinion, everything was very good organisated and my participation was very interesting and actively developing for me.


Describe your most memorable moment so far with WorldSkills? As for my most memorable moment, it was in Kasan , where l've got the first place at the all-Russian welding competition Worldskills-20 15.

Describe what your experience has been since your involvement with WorldSkills It's a lot of positive impressions and the great efforts for becaming the champion.

Did participating in the skills competitions and training for WorldSkills help you progress in your skill? Please describe. Yes, it did. The Worldskills competitions and trainings for Worldskills were the powerful stimuluses for my personal progress in the all kinds of welding and in the learning of English.


What do you currently do? Where do you work?As for my doing -1 train in all kinds of welding every day.
I'm the student of the professonal college NQ 12.


What are your future career aspirations? !wish to be the student of the Yaroslavl Technical University.