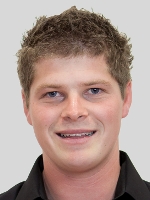 Adam de Pass
Competitor in Skill: Plumbing and Heating
Country: New Zealand
How did you get interested in your skill?
My engineering teacher at Southland Boys High, Marc Mulholland, got me into plumbing, saying everyday is different and no two days are the same as he was a plumber and loved it. Also being off a farm I was always interested in water the fact how we collect rainwater to how when we open a cold or hot tap that water flows out and drains away.

Where did you do your training for your skill?
I did 12 one-week long block courses at SIT in Invercargill over 4 years, and a lot of training and learning on the job first hand on a daily basis, there is so much to learn. I'm learningnew things everyday and becoming more efficient in the different tasks and jobs that I do.


How did you first find out about your Member organization and its programs?
From my plumbing tutor in Invercargill, he made us do regionals and from that ventured onto being now in WorldSkills.

Who influenced you to pursue your skill as a career?
My Mum and Dad, I was always told to get a trade, its something you can come back to later on in lif and is a life skill that can take you anywhhere.

What is your experience in participating with your Member organization?
A life changing experience. I never would have picked that i would ever have the chance to represent my country.

Describe your most memorable moment so far with WorldSkills?
Standing on the podium after winning my second gold medal - hard work paid off.

Describe what your experience has been since your involvement with WorldSkills.
I had only ever once been to the North Island and was 5 years old and can't remember a lot but since the nationals, I have been to Hamilton 3 times and went to Sydney from a sponsored plumbing prize by Caroma at the Nationals.


Did participating in the skills competitions and training for WorldSkills help you progress in your skill? Please describe.
Yes as got more competitive and was always trying to do my best / WorldSkills standards.

What do you currently do? Where do you work?
Mainly plumbing new houses and maintenance jobs such as no hot water, reduced water pressure / flow, leaking taps and convesion to gas hot water ,everyday I'm working somwhere different.


What are your future career aspirations?
As any young adult, owning your own business is always a future option.