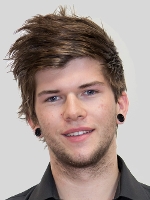 Stacy Smyth
Competitor in Skill: Welding
Country: New Zealand
How did you get interested in your skill?
Ever since I was little I have enjoyed being hands-on and engineering is a way of showing this.

Where did you do your training for your skill?
Spend all my time at work training and also some time at Lamb Engineering.


How did you first find out about your Member organization and its programs?
First my boss told me about it and suggested I should go have a crack.

Who influenced you to pursue your skill as a career?
Myself as I always like to do one better so by this I can only improve my skill.

What is your experience in participating with your Member organization?
So far it has been amazing and I have learned so much along with meeting people from all over the world.

Describe your most memorable moment so far with WorldSkills?
I really enjoyed making friends with the Malaysia team and spending time with them.

Describe what your experience has been since your involvement with WorldSkills.
It has been very intense as the commitment is huge, I have learned what it's going to take to get me to the top.


Did participating in the skills competitions and training for WorldSkills help you progress in your skill? Please describe.
Since training strated, I have rapidly upskilled myslef and that is now showing in my job.

What do you currently do? Where do you work?
Currently employed at RCR ENERY and am doing a heavy fabrication apprenticeship. I have completed 7000 hours out of 8000 hours needed.

What are your future career aspirations?
Mid next year I am hoping to head overseas and go offshore pipe welding on the oil rigs as there is a lot of money to be made.