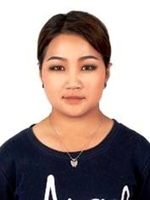 Nomingoo Biziyabal
Competitor in Skill: Beauty Therapy
Country: Mongolia
How did you get interested in your skill?
My dream is to become a very good and high grade professional Beauty therapist.

Where did you do your training for your skill ?
I studied at makeup class Beauty therapy and Technology – Ulaanbaatar, Mongolia. I trained intensively during the last

How did you first find out about your Member organization and its programs?
I find out from my teacher and from internet about WorldSkills organization and its programs. Also from National Skill Competition 2014 in Ulaanbaatar.

Who influenced you to pursue your skill as a career?
To have this skill as a career so when I was child I dreamed of becoming a beauty makeup. After high school I was admitted to study my favourite specialty of Beauty Therapist

What is your experience in participating with your Member organization?
Ministry of Labor of Mongolia organized National Skill beauty makeup Competition in three stage during last

Describe your most memorable moment so far with WorldSkills
I am sure that I will do well at the WorldSkills competition.

Describe what your experience has been since your involvement with WorldSkills?
which I going to participate in different level of skill competition.

Did participating in the skills competitions and training for WorldSkills help you progress in your skill? Please describe.
Participating in the skills competitions and training for WorldSkills helped my skill progress.

What do you currently do? Where do you work?
I am participating to WSC Brazil, Sao Paolo 2015

What are your future career aspirations?
I like beauty makeup. So I want to become the best beauty makeup artist.