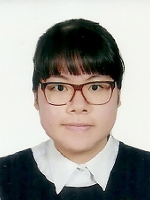 Cheng Man Kou
Competitor in Skill: Fashion Technology
Country: Macao, China
How did you get interested in your skill?
I have seen a TV series which is about fashion design when I was a primary school student. After watching that, I got interested in fashion design.

Where did you do your training for your skill?
I did my training at CPTTM (Macau Productivity and Technology Transfer Center)


How did you first find out about your Member organization and its programs?
the staff at the CPTTM told me the information about WorldSkills.

Who influenced you to pursue your skill as a career?
My friends who are studying fashion design.

What is your experience in participating with your Member organization?
I took part in the 13th Macao Fashion technology for The Youth.

Describe your most memorable moment so far with WorldSkills?
I was very excited after I received the project, because I thought I was more and more close with the competition.

Describe what your experience has been since your involvement with WorldSkills.
I have learned more professional knowledge about my project.


Did participating in the skills competitions and training for WorldSkills help you progress in your skill? Please describe.
Yes, it did. The training improves my ability of the skill.

What do you currently do? Where do you work?
I am a student studying in Macau.

What are your future career aspirations?
To work in fashion or design.