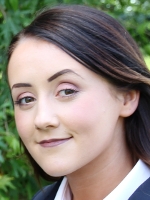 Andrea Donoghue
Competitor in Skill: Beauty Therapy
Country: Ireland
How did you get interested in your skill?
I have always had a passion for Beauty Therapy. I enjoy learning about the anatomy of the body and understanding just how our bodies work. I love to work with people, and have great pleasure engaging in healing therapies, therefore Beauty Therapy seemed to be a natural career choice for me.

Where did you do your training for your skill?
I initially trained as a Beauty Therapist in Waterford College of Further Education. I have been undergoing an extensive training programme in Kerry ETB Training Centre for a number of weeks to help prepare me for the competition in São Paulo this August.


How did you first find out about your Member organization and its programs?
I was initially approached by a head tutor during my final months of education at Waterford College of Further Education who explained the details of the competition and invited me to take part.

Who influenced you to pursue your skill as a career?
I feel that the decision to pursue beauty therapy as a career was an independent choice as I had developed a personal interest in the skills which are all encompassed by beauty therapy before I began my third-level education.

What is your experience in participating with your Member organization?
In order to compete in the competition, you have to be completly commited, hard-working and determined to suceed.

Describe your most memorable moment so far with WorldSkills?
With WorldSkills, the most memorable moment for me so far is when I won the National Competition. It was a welcome challenge to compete against some talented beauty therapists from around the country and guage my own skill as a beauty therapist against them.

Describe what your experience has been since your involvement with WorldSkills
Since I began training for the WorldSkills, it has helped to develop my skills as a Beauty Therapist to a higher standard.

Did participating in the skills competitions and training for WorldSkills help you progress in your skill? Please describe.
My skills as a beauty therapist have greatly progressed throughout the course of the Worldskills event. The training has not only helped me to improve on many skills but has also helped me to identify new boundaries into which my knowledge of beauty therapy can be expanded.

What do you currently do? Where do you work?
I am currently training in the Kerry ETB training centre in Tralee, Co, Kerry.

What are your future career aspirations?
Currently, my ultimate goal is to become a beauty therapist tutor. I am enjoying learning all I can about beauty therapy at the moment and would like to continue to do so before I pursue a career as a tutor.