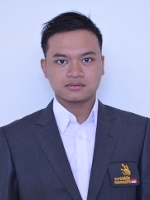 Kukuh Kiswanto
Competitor in Skill: Welding
Country: Indonesia
How did you get interested in your skill?
It attracted me because I have a talent for it.

Where did you do your training for your skill?
In Serang Industrial Institute (BBLKI) Serang.


How did you first find out about your Member organization and its programs?
I found it after completing the national competition in my country.

Who influenced you to pursue your skill as a career?
My parents and teachers.

What is your experience in participating with your Member organization?
I can develop my skill and education in the field of welding.

Describe your most memorable moment so far with WorldSkills?
I can acheive my skill and share education with my friends in our activities as well as my future.

Describe what your experience has been since your involvement with WorldSkills.
I can reach the skill competence according to the standard of welding where all requirements of it are suitable to the industrial need.


Did participating in the skills competitions and training for WorldSkills help you progress in your skill? Please describe.
Of course, it needs the real standards that are adopted by all countries and therefore each competitor must implement it by using regulations and standards.

What do you currently do? Where do you work?
I have passed high school for 2014 and I prepared for the WorldSkills competition in Brazil.

What are your future career aspirations?
I want to become a professional welder in all aspects.