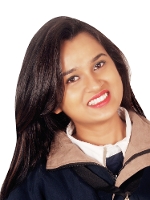 Neha Ulhas Chande
Competitor in Skill: Beauty Therapy
Country: India
How did you get interested in your skill?
I wanted to do something out of the box...something more than mathematics and physics and that's how I came in this field of creativity...where everyday is a new challenge...where I make people look beautiful...where I make people love themsleves...because I believe love begins with you.

Where did you do your training for your skill?
I am doing training at my company "Enrich Salons and Academy" as well as at LT A school of beauty.

How did you first find out about your Member organization and its programs?
through the official WorldSkills website.

Who influenced you to pursue your skill as a career?
I knew I could do anything as a career but I didn't know I would do it so well. As I always knew the beauty sector was for me because I would easily get bored of a desk job in front of the computer. Meeting new people every day and designing their look, with the help of makeup and enhancing their features and with the help of skin treatments improving their overall look and confidence in turn. This gave me a lot of satisfaction and made me feel in control where I could give direction to people to better skin care and designing their look to suit their personality.

What is your experience in participating with your Member organization?
My experience has been tremendous as I have been guided on this path and a lot of training has been imparted to me on every aspect of the competition...right from time management, hygiene, consultation, product knowledge, step-by-step procedures, attention to smallest details and how to use equipment efficiently and get the best results.

Describe your most memorable moment so far with WorldSkills?
Winning a gold medal and standing first in national Skills Development competition where I stood first from all the cadidates who participated across India at WorldSkills Oceania 2015 was a proud moment for me and my country as I have been able to take Beauty Skills and give it the next level of exposure and make it easier for the next generation of young girls in my country to take it up as a serious career where they can also get international exposure and experience world class training and exposure.

Describe what your experience has been since your involvement with WorldSkills.
WorldSkills is a great platform for the youth to showcase their skills and talent. I have made a memory for a lifetime with WorldSkills. It is my 3-year journey with WorldSkills. Not just for 2015 but I also competeed till the national level in 2013. WorldSkills is my dream... I have lived it and finally I am closest to it.

Did participating in the skills competitions and training for WorldSkills help you progress in your skill? Please describe.
WorldSkills gave me an identity as an individual. With every qualifying round of WorldSkills, I have seen the growth in my work. it has improved me as a person as well as polished my skills to a greater extent. It has boosted my confidence. I am fortunate to be a part of WorldSkills.

What do you currently do? Where do you work?
I am CIDESCO graduate and currently work as a Senior Aesthetician with enrich Salons and Academy (Mumbai). It is the largest chain of Salons in Mumbai and with the highest turnover across India.

What are your future career aspirations?
My dream is to start a beauty cosmetology school and my own range of products. I want to get more and more youth to take up this beauty skill.