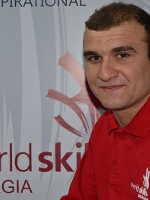 Malkhazi Chipchiuri
Competitor in Skill: Welding
Country: Georgia
How did you get interested in your skill?
My father is works on cutting iron with gas. So I got in touch with welding and other building matters from my childhood. I tried to weld and I could. So I decided to become a professional welder.

Where did you do your training for your skill?
I had my training at LTD Elita Burji, one of the largest building company in Georgia.

How did you first find out about your Member organization and its programs?
My father works at LTD Elita Burji on cutting iron with gas. He got information about Member Organization and its programs from the company and my father informed me. He said that it was an exellent possibility to take part in National Contest and in case of winning in international one.

Who influenced you to pursue your skill as a career?
My father influenced. He is my idol.

What is your experience in participating with your Member organization?
Member organization helped me to do the best to win. This organization is the excellent chance to get experience and knowledge in my skill.

Describe your most memorable moment so far with WorldSkills?
The most memorable moment was when I heard my name at the ceremony as a winner. It was such a great emotion. I thought, I did it!

Describe what your experience has been since your involvement with WorldSkills
Worldskills taught me to work on myself. It is really a good experience for me. Worldskills toughed me to do Aluminium Welding.

Did participating in the skills competitions and training for WorldSkills help you progress in your skill? Please describe.
I gained popularity. My bosses are proud of me. I have great progress in knowledge and leaned new skills.

What do you currently do? Where do you work?
I work at LTD Elita Burji as a welder.

What are your future career aspirations?
My profession lets me think that I can have great achievements in my field. I shall try my very best in Sao Paolo. Get as much experience as it is possible da use it in my country.