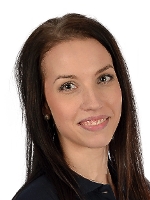 Kirsi Havi
Competitor in Skill: Beauty Therapy
Country: Finland
How did you get interested in your skill?
I have been interested in beauty therapy profession all my life

Where did you do your training for your skill?
I train in my school, Vaasa vocational institute and I also have some trainings with some specialist, for example lomilomi-massage.

How did you first find out about your Member organization and its programs?
From my teacher

Who influenced you to pursue your skill as a career?
My mom

What is your experience in participating with your Member organization?
it's 'been interesting, fun but challenging

 Describe what your experience has been since your involvement with WorldSkills.
It's 'been interesting, fun and challenging.

Did participating in the skills competitions and training for WorldSkills help you progress in your skill? Please describe.
I have learnt so much different things and techniques.

What do you currently do? Where do you work?
I stydy in a Vaasa vocational institute as a hairdresser and I work in an ABC Vaasa.

What are your future career aspirations?
My first plan is to graduate with hairdressing.