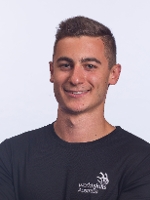 Dylan Di Martino
Competitor in Skill: Plumbing and Heating
Country: Australia
How did you get interested in your skill?
My dad has been a plumber for almost 40 years and self-employed for over 30 of them. So, it comes as no surprise that plumbing became a part of my life very early on. I can remember going to work with my dad on weekends since I was in primary school. I always enjoyed plumbing and I seemed to have a natural talent for it.

Where did you do your training for your skill?
Victoria University, Sunshine Campus

How did you first find out about your Member organization and its programs?
My involvement with WorldSkills Australia all began when one of my TAFE teachers was calling upon anyone who would be interested in competing in this competition. I'd never heard of it before, but felt it would a great opportunity to showcase my skills. I never would have thought I would be where I am today or have been able to achieve what I have achieved to date.

Who influenced you to pursue your skill as a career?
My dad.


Describe your most memorable moment so far with WorldSkills?
I don't have any one moment that is more memorable than any other but what I remember most is what it took to get where I am and what it is going to take to get where I want to be.

Describe what your experience has been since your involvement with WorldSkills
It has been a life changing experience where i have learnt so much about my job, industry and life experience. It has enabled me to join the "world skills family" which is often spoke about but rarely understood unless you are a part of it.

Did participating in the skills competitions and training for WorldSkills help you progress in your skill? Please describe.
WorldSkills Australia has really broadened by social network and has introduced me to a great bunch of people who I'm sure will be lifelong friends. WorldSkills Australia has enabled me to develop my technical skills which have assisted with my career development. I have been able to see the different techniques used by other competitors, which has really opened my eyes up to what is possible within the trade.

What do you currently do? Where do you work?
I am currently working full time with "Pauls Plumbing Service" and training with any spair time i have left.

What are your future career aspirations?
I want to have my own plumbing business in Melbourne, with apprentices and employees with the same mind-set and work ethic as myself.