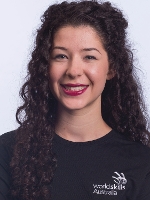 Emma Hillier
Competitor in Skill: Fashion Technology
Country: Australia
How did you get interested in your skill?
Since the age of five, I learned dance and drama and have always loved live performance. Also from a young age I was taught to sew by my mother. I continued to study both of these things at high school and when it came time to choose a career path, my friends, family and teachers urged me to look at the Costume Design industry.

Where did you do your training for your skill?
TAFE NSW South Western Sydney Institute, Macquarie Fields College and TAFE NSW Sydney Institute, Ultimo College

How did you first find out about your Member organization and its programs?
I first became involved in WorldSkills Australia in 2013 when I competed in my local regional competition. My TAFE teachers at the time let us know about the competition, and I had heard a little bit about it from as past competitor that had also attended the same TAFE. I decided that I would try it, although I didn't know much about it. It was very different than anything I had ever done, and I was interested to see how my skills would stand up against other in my field.

Who influenced you to pursue your skill as a career?
My family and friends have always been very supportive of my career decisions, however it was my high school textiles teacher, Kelcie Bryant, who really encouraged me to pursue this skill as my career. After having her as my teacher for four years I had a great level of respect for her and her opinion. When I was coming to the end of year 12, she strongly encouraged me to follow my passion and study costume design.

What is your experience in participating with your Member organization?
My experience with WorldSkills has been a very worthwhile one. Looking back to the very beginning when I first competed in my Regional competition, it is amazing to me how my skills have progressed in just two years. I have had such great support from WorldSkills through our team leaders and my mentor Donna Kirby-Drain. Without their support I really would not have gotten this far. Having such a talented and dedicated mentor is really great because it means that any problems or questions I have, I can take to her and we can work them out. Having that ongoing communication and support keeps you on track so you can get the most out of your training and their expertise. On top of all of this, I have loved being a part of the Skillaroo team. It is really inspiring to meet so many people who are so driven to succeed and to get to be a part of everyone's journey.


Describe your most memorable moment so far with WorldSkills?
Whilst I have had some great moments throughout my WorldSkills journey, the moment that sticks in my mind the most is when I completed my National Competition in Perth. When we had the final countdown on the last day, it had been such a tough competition and I didn't know whether I wanted to laugh or cry. It is this moment and memories of what I was feeling then that continue to push me forward today. I realised that all of the hours I had spent training and any of the things I had to miss in order to prepare for the competition had all been worth it. I was standing in front of everything I had created in the three days and I was pretty amazed at what I had been able to accomplish. I cannot wait to feel the same way in Brazil.

Describe what your experience has been since your involvement with WorldSkills
Since my involvement in Worldskills my life has changed quite dramatically. I have had the opportunity to improve my skills to a level that I never thought I would reach. I have been able to work with great mentors and I have met some wonderful people. I have been pushed to a level that I thought I would not be able to handle, and have pulled through. This experience has really showed me what I am capable of and had made me eager to challenge myself.

Did participating in the skills competitions and training for WorldSkills help you progress in your skill? Please describe.
I have gained skills that I would never have gained before this competition. I also have gained a lot more confidence in my own ability and ideas. Through practice in interviews I am much more comfortable when it comes to expressing these ideas and with public speaking. I have also gained more direction when it comes to my career as I have been forced, through interview questions, to give closer consideration to my career goals and where I am heading with my studies.

What do you currently do? Where do you work?
I am currently in my final year of a diploma of Costume for Performance at Ultimo Tafe. When I reach the end of this year I would really love to get a job in the costume industry making costumes for live theatre and performance.

What are your future career aspirations?
I am currently in my final year of study for my Diploma and want to complete the year with distinction. I want to get a job in producing costumes for live theatre such as opera or ballet. It is a dream of mine to work at Opera Australia – even just for a short time – sewing and producing costumes. I also want to travel overseas to live in Europe, working as a costume designer/maker on live theatre productions.